748 Dalerose Ave
Decatur, GA 30030
"
Beautiful pianos of excellent quality.
My work and my pianos are fully guaranteed.
"
These are just the pianos we've posted online! Call or email Rick for inquiries about all of the pianos for sale!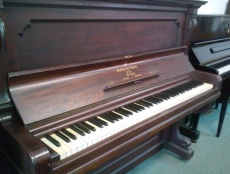 Vintage Steinway upright
Price: $2595
1890s mahogany Classic Steinway upright with original ivory keys. Powerful & rich Steinway sound. Serviced, regulated, and tuned. $2595.
Cable Nelson Spinet
Price: $995
Everett made Cable Nelson 36" Spinet. Walnut wood with original matching bench. ca. 1968. Fine condition. A440 tune. Great reliable beginner piano.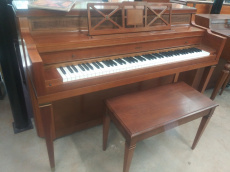 Everette Ironback Console
Price: $1895
Beautiful 42" high Everette console. Arguably one of Everette's best products ever. ca. 1965. Original bench. Restored to pristine condition. This piano is famous for keeping tune (but one free tuning still included!)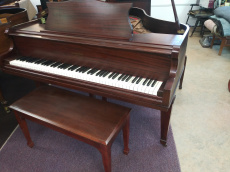 George Steck Baby Grand
Price: $2895
1957 Rochester NY Grand built by Aeolian. Only 5 feet but packs a punch. Steck made a SERIOUS small grand, built for performance not just looks. Middle pedal is a working sostenuto. Handsome classic mahogany cabinet with original bench.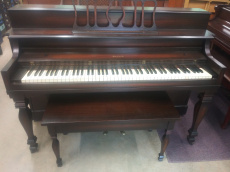 Jansen Console
Price: $1295
1938 Jansen Console has decades of life ahead. Unusual dark walnut cabinet and original bench. Rich, warm tone.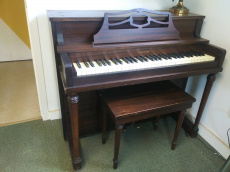 Concord Apartment Piano
Price: $675
58 note Concord upright. Spinet height but 18" narrower than the standard 88-key piano. Great for apartment living or taking on the road.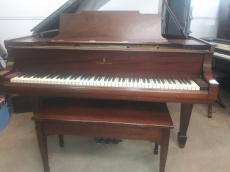 Original Steinway "M"
Price: $12,095
1926 Steinway "M" (5'8") factory original. Beautiful refinished mahogany cabinet. Matching bench included. Excellent working condition. Fabulous Steinway tone.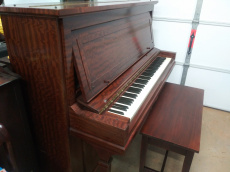 Sohmer upright
Price: $3595
1912 gorgeous Ribbon Mahogany Sohmer upright. Sohmer was more expensive and arguably better made than a Steinway. Piano is in fabulous restored condition and comes with hard-to-find matching bench. Must see to fully appreciate this beauty.
End of entries.