8 N. Clarendon
Avondale Estates, GA 30002
"
Beautiful pianos of excellent quality.
My work and my pianos are fully guaranteed.
"
These are just the pianos we've posted online! Call or email Rick for inquiries about all of the pianos for sale!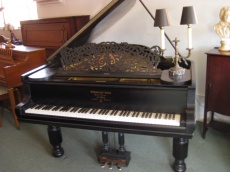 Steinway Grand Piano
Price: $11950
SALE: Steinway Grand Model A 6" 2" #89920 circa 1898 in very good working order. Includes adjustable artist bench. Beautiful complete original cabinet. Famous Steinway tone and sound.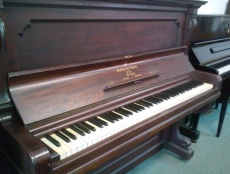 Vintage Steinway upright
Price: $2595
1890s mahogany Classic Steinway upright with original ivory keys. Powerful & rich Steinway sound. Serviced, regulated, and tuned. $2595.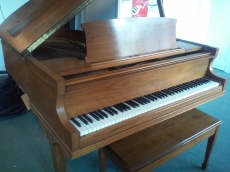 Sohmer Grand Piano
Price: $4995
1968 Sohmer Baby Grand Model 50. The best sound and highest quality small grand ever on the market. Beautiful matching walnut cabinet and bench. One owner, original paperwork. Meticulously maintained. Serviced, tuned, and warrantied. $4995.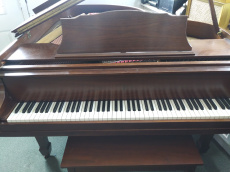 Hardman Grand
Price: $2895
Hardman Grand. Late 1960s Aeolian-built 5'1" Almost perfect cabinet. One owner. Plays and sounds like new.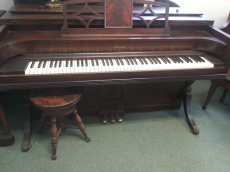 Baldwin Acrosonic
Price: $1295
Baldwin Acrosonic with very unusual Duncan Fife cabinet - the only one I've ever seen. Comes with antique adjustable stool (see image). Completely restored, fine working condition. Tuned & serviced.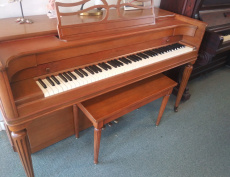 Baldwin Acrosonic 1950s
Price: $1295
Baldwin Acrosonic ca. 1950. Mid-century modern in blond finish. Restored. Sounds and plays great! Tuned & serviced.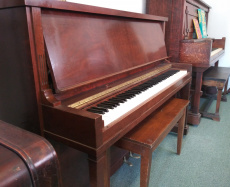 Grinnell Brothers Music House 1930s Stage Studio (or small upright). Plays and sounds wonderful! This type of piano was often used in touring big bands. In a bookmatched walnut cabinet, with matching bench. Completely restored, good for many more years of fun. Tuned and regulated.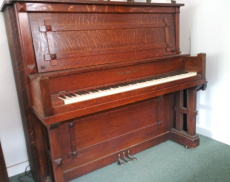 Mission Oak upright
Price: $2795
Rare Mission Oak, restored 1917 Hallet & Davis upright, in a Stickley craftsman style. Powerful sound, original ivories. Tuned, regulated, and warrantied. A great find!

End of entries.