748 Dalerose Ave
Decatur, GA 30030
"
Beautiful pianos of excellent quality.
My work and my pianos are fully guaranteed.
"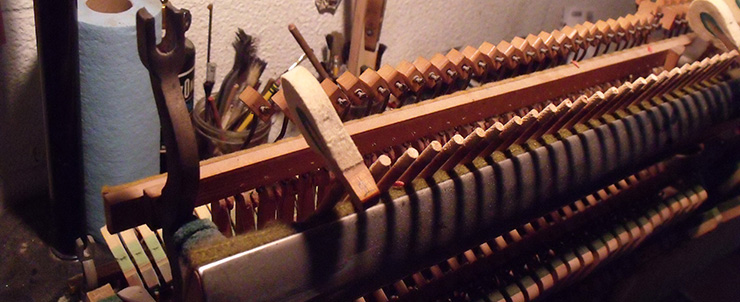 "I emphasize careful, historically correct methods in rebuilding & restoration."
Services and Specialties
In your home: tuning, voicing, regulation, minor repairs, prepurchase inspection, appraisals, and clean-ups.
In the shop: refinishing, mechanical action repair and/or rebuilding, restringing, regulation, and whatever is necessary.
We Buy & Sell, Tuning, Repair, and perform Appraisal / Evaluation / Prepurchase Inspection*
*The cost of acquiring even a "free" piano can be very expensive, so we recommend you always have a piano technician / tuner check it out before you bring it home.
You can call us for a free telephone consultation and/or set up a repair estimate. 770-938-1056
Basic Rates:
Local tuning: $140. Small repairs are often included in the price of tuning.
Prepurchase inspection: $60.
Appraisal: $60.
Please call for details, firm prices, and to set up an appointment. 770-938-1056
Our pianos
Ricks Pianos stocks a variety of useful pianos at fair prices, both high-end and inexpensive. Any piano sold from the shop, regardless of price, is fully warranted. We will sell you a piano that will hold up. Don't waste your money on a new import; we can fix you up with a used piano at a fraction of the price. Good values and expert service always.